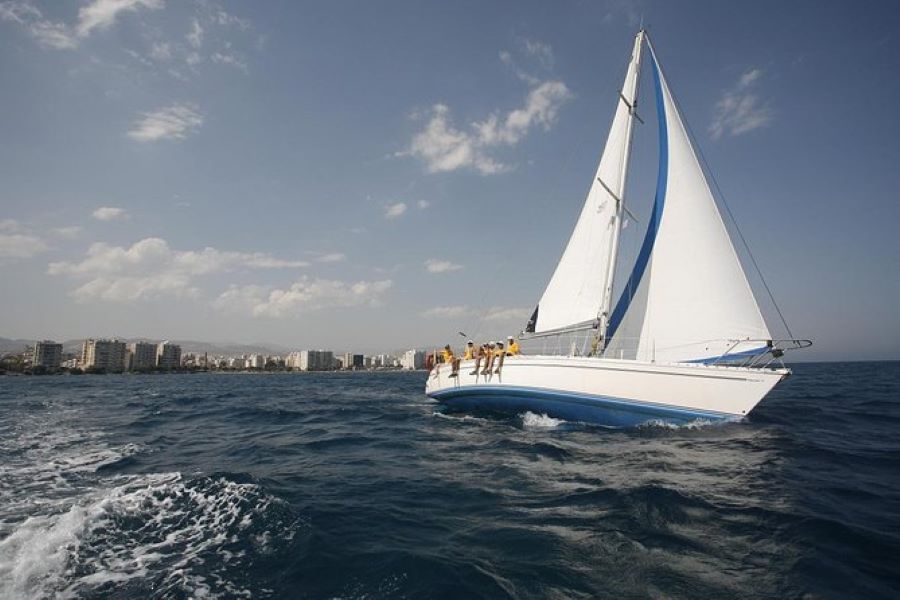 Larnaca is a wonderful holiday destination, having architectural delights, plenty of shops and restaurants, and scenic beaches. The best part as the locals say is the sun "caresses" you—and there is no better way to experience this than relax on a cruise and go sailing. Keep reading as we've rounded up the most exciting cruises for you. 
Private day cruise with a sailing yacht Koursaros
If you are looking for a full day on a sailing yacht in the backdrop of unspoilt beaches, then this one's for you. Cruise with your friends or family and have a relaxing time. Enjoy sunbathing, the opportunity to sail the yacht yourself with an experienced skipper, and the on-board Cyprus style meal and fruit platter. Also, look forward to experiencing the wonderful underwater world with complimentary masks, snorkels, and fins.
Private sailing yacht cruise Panormitis (for max 40 Guests)
Get ready to sail on a luxury yacht and enjoy the beautiful beaches of Cyprus on this 6-hour cruise either morning or evening. On the tour, guests get the opportunity to swim, sunbathe, relax, and also explore the magnificent underwater world. Guests would get complimentary masks, snorkels, and fins. The Panormitis yacht is a traditional, hand-crafted wooden yacht that is well-equipped with modern amenities. And, you'll enjoy the six beautifully furnished en-suite cabins with air-conditioning. Also, look forward to lounging on the sunbeds in the sundeck area. The comfortable chairs and banquettes are equally welcoming.
Champagne Sunset Cruise Koursaros
Cruisers who want to set sail themselves, this one is for you. Get ready to sail with help from your experienced onboard skipper, and have the time of your life on this romantic sunset cruise, in the backdrop of the Mediterranean scenery. Grab the opportunity to anchor a little way out from shore, and enjoy some champagne on ice or take a swim in the ocean. The gilded Mediterranean sunset in the luxury of your yacht can rejuvenate your body and soul.
Have a relaxing cruising time with friends and family. Book the cruise of your choice and have a memorable cruising trip.