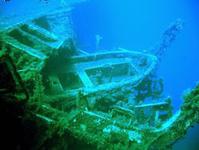 Attractions in Larnaca (also spelt Larnaka) are plentiful and will certainly add some culture, entertainment & history to your holidays.
Alpha Divers Dive Centre ( Visit Site )
Alpha Divers is a scuba diving institute that specialises in scuba diving, snorkelling and water sports. For those who are not enthusiastic divers, the centre also offers water sport activities like parasailing, wave-runners, kayaking, paddleboats and aqua cycles. There are plenty of other exciting water activities at the institute, which can be enjoyed by the whole family. The centre is located near the famous Zenobia Ferry Wreck.
Address: Dhekelia Road, P.O. Box 42591 Larnaca, Cyprus
Tel.: +357 24 647 519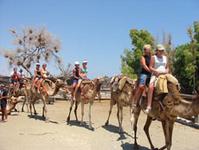 Camel Park Mazotos ( Visit Site )
Enjoy a camel ride in the countryside of Mazotos village, situated just 15 minutes away from Larnaca. The Camel Park also includes a play area for children, restaurant to enjoy Cyprus delicacies and a swimming pool.
Address: Dhekelia Road, P.O. Box 42591
Larnaca, Cyprus
Tel.: +357 24 991 243
Ancient Kition ( Visit Site )
The Ancient Kition is located in the north west of Larnaca and features some temples that date back to 13th century B.C. The ones that are worth visiting are the Phoenician Temple of Astarte and the city walls. The ruins of the temple were built on an earlier Bronze Age temple and are dedicated to goddess Astarte. One can also find some remains of tombs made from gold, ivory and bronze.
Address: Ancient Kition, Larnaca, Cyprus
Tel.: +357 24 304 115
Opening Hours: Winter Hours (16th September to 15th April):
Monday to Friday: 8:30 am – 4.00 pm, Weekends closed

Summer Hours (16th April to 15th September):
Monday to Friday: 9:30 am – 5.00 pm, Weekends closed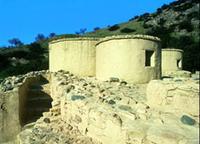 Choirokoitia Neolithic Settlement
( Visit Site )
This famous site of Larnaca is known to be one of the best-preserved pre-historic sites of the eastern Mediterranean. It contains the remains of a Neolithic settlement dating from 7000 B.C. Located on the main Larnaca-Lemesos road; UNESCO declared it a World Heritage Site in 1998. Evidence of the settlement is found in form of farmer's houses, burnt grains of barley and wheat, tombs and defence walls. The artefacts and remains found here are displayed at the Cyprus Museum in Nicosia.
Address: Choirokoitia, Larnaca, Cyprus
Tel.: +357 24 322 710
Opening Hours: Winter Hours (1st November to 31st March)
Daily: 8:00 am – 5:00 pm

Spring Hours (1st April to 31st May) and Autumn Hours (1st September to 31st October)
Daily: 8:00 am – 6:00 pm

Summer Hours (1st June to 31st August)
Daily: 8:00 am – 7:30 pm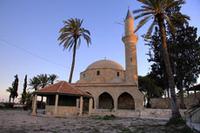 Grand Mosque - Djámi Kebír
The Grand Mosque or as it is called Djámi Kebír, is situated next to the Larnaca Fort. Built in the 16th century, it is still visited by the local Muslim community. A good view of the mosque can be gained through the Larnaca Fort.
Address: 1 Pavlou Vslsmaki, Larnaca, Cyprus
Hala Sultan Tekke ( Wikipedia )
The Hala Sultan Tekke mosque overlooking the Salt Lake is one of the holiest Islamic places and a Muslim pilgrimage site. It is built on the tomb of Umm Haram, wet nurse of Prophet Mohammed and wife of Ouvadas Ibn, who led the invasion against Cyprus in 649 and 650 AD. The simple grave has now transformed into a beautiful mosque. An extremely sacred shrine, it is visited by thousands of pilgrims every year.
Address: Dromolaxia, Larnaca, Cyprus
Opening Hours: Winter Hours (16th September to 15th April): Daily: 8:30 am – 5.00 pm
Summer Hours (16th April to 15th September): Daily: 8:30 am – 7.30 pm

Salt Lake ( Wikipedia )
A popular sight in Larnaca, Salt Lake is home to nearly 85 species of migratory water birds like flamingos. About 10,000 flamingos visit the lake every year around Jan-Feb. In July-Aug, the lake dries up leaving a thick crust of salt measuring up to 10cm deep. In the Middle Ages, the lake was used to mine salt for commercial purposes, but now it is just a tourist attraction. Situated nearby the Salt Lake is the holy site of Hala Sultan Tekke.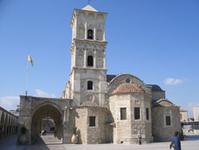 St Lazarus Church - Áyios Lázaros
( Wikipedia )
This important religious institution of Larnaca was built in 9th century A.D. Devoted to St. Lazarus, he is said to have lived in Kition for about 30 years after his resurrection by Christ. It is believed that the church is erected upon the empty grave of the saint, who is actually buried in France. Eight days before Easter, the icon of Saint Lazarus is carried in a procession through the streets of Larnaca.
Address: Plateia Agiou Lazarou, Larnaca, Cyprus
Tel.: +357 24 652 498
Pierides Foundation Archaeological Museum ( Visit Site )
This private museum contains findings and work of art from all over Cyprus. Collections ranging from prehistoric times, Roman Era, Byzantine empires and Middle Ages can be found here. Run by the Pierides family, it is the oldest private museum in Cyprus.
Address: Zinonos Kitieos 4, Larnaca
Tel.: +357 24 814 555
Opening Hours: Monday to Thursday: 9:00 am – 4:00 pm
Friday & Saturday: 9:00 am – 1:00 pm

St Phaneromeni Church - Ayía Phaneroméni ( Wikipedia )
The Church of Ayía Phaneroméni was built around 80 B.C. on the Phaneromeni Avenue. Devoted to Virgin Mary, it was rebuilt on the same location in the 20th century. It is said that the Church has mystical powers and cures illness if a person walks around it three times leaving behind a piece of cloth.
Address: Main highway that connects Larnaca International Airport with the city of Larnaca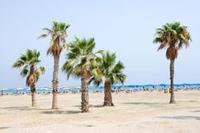 Phinikoudes (Foinikoudes) beach
One of the most famous beaches in south Cyprus, the name 'Phinikoudes' comes from small palm trees which were planted here in 1922. The area in and around the beach is popular for its cafes, restaurants, bars, hotels and mini markets. During the tourist season many facilities have been provided for visitors, such as lifeguards, sun beds, umbrellas and water sports.
Statue of Zeno ( Visit Site )
The famous stoic philosopher Zeno of Kition (Citium) hailed from the city. He laid the foundations of Stoic school of Philosophy and was one of the first to segregate Philosophy into physics, logic and ethics. It is said he began his stoic teaching after losing everything he had in a shipwreck. There are two Statues of Zeno is Larnaca, one is located opposite Municipal Garden and the other in Europe Square.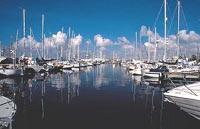 Marina ( Visit Site )
Larnaca's 200 berth yachting marina is one of its main attractions. The harbour is lined with lovely palm trees and from here you can view all the yachts and boats that are sailing in the sea. There are lots of tavern's and cafes at the harbour to enjoy a glass of wine or a sip of your favourite coffee.
Address: Marina Harbour, 6023, Larnaca, Cyprus
Tel.: +357 24 653 110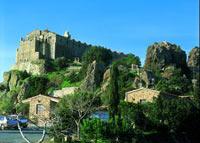 Stavrovouni Monastery ( Wikipedia )
Stavrovouni monastery is a Greek Orthodox Monastery constructed on the peak of a mountain by the same name in the District of Larnaca. Dedicated to the Holy Cross, the name of monastery is derived from two words 'stavros ' (cross) and 'vouno' (mountain). According to tradition it was founded in the 4th century by Saint Helena, mother of Constantine the Great, who left a fragment of the Holy Cross to the monastery.
Address: 9 km off the Nicosia - Limassol road, 40 km from Larnaca, Cyprus
Opening Hours: Winter Hours (September to March)
Daily: 8:00 am – 12:00, 2:00 pm – 5:00 pm

Summer Hours (April – August)
Daily: 8:00 am – 12:00, 3:00 pm – 6:00 pm