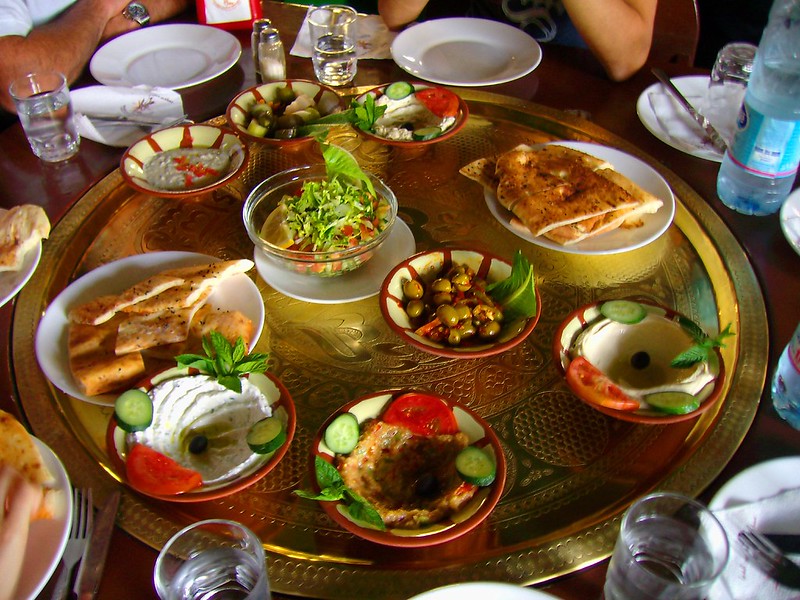 Credit: flickr / Unai Guerra / CC BY-SA 2.0
The coastal city of Larnaca has no shortage of attractions to see, including the numerous beaches. But, while the sightseeing can take up most of the day, you can try winding down the day by eating some of the delicious food that is native to only the Cypriot city of Larnaca. Check out some of the best local food, and we guarantee that you will be left wanting more.
Mezze
If you are going out with friends or family and prefer to order only one dish then Mezze is definitely the best choice. The dish is a platter of meat or fish depending on what you prefer.
Kleftiko
Kleftiko is essentially a lamb shank that is slowly cooked and served on the bone along with sliced potatoes. It can be an incredible meal and very healthy since it is roasted in an oven.
Souvla and Souvlaki
If you prefer a barbeque then you can definitely try Souvla which includes chunks of meat like chicken, lamb and port pork while Souvlaki is traditionally a kebab.
Pastelaki
For the local Cypriot dessert you can try having a sticky toffee which is essentially made with pressed peanuts and carob bean juice. This is something you shouldn't miss!
Loukoumades
Have you ever tried sizzling hot doughnuts? Well, these mouthwatering mini doughnuts are gooey and served straight out of the pan sprinkling with some sugar syrup. Dig in!
Try out some of this delicious food while you are exploring Cypriot food in one of the restaurants in Larnaca.