Larnaca, Cyprus » Entertainment » Shopping Centres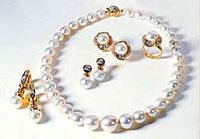 Recently, Larnaca (also spelt Larnaka), has developed many large shopping centres and modern boutiques with plenty of choice for tourists with the shopping bug. As a matter of fact, Larnaca is the place to buy famous Cypriot purchases like handmade lace, silverwork, pottery and jewellery.
Oro Fino Jewellery ( Visit Site )
Situated 50 metres from Foinikoudes beach, near St. Lazaurs, this jewellery shop specializes in Italian and Greek designs, diamonds, zircons, precious and semi-precious stones.
Address: 26 Pavlou Valsamaki, 6026 Larnaca, Cyprus
Tel.: +357 24 654 666
Orphanides Supermarket ( Visit Site )
The Orphanides Supermarket is a two storied building with the ground floor occupying food articles and the first floor, other household items. Orphanides has its branches in Limmasol, Paralimni, Nicosia, Paphos, and Ormidia.
Address 1: 20-22 General Timayia Avenue, 6046 Larnaca, Cyprus
Address 2: 28 Thessalonikis Aven., 6035 Larnaca, Cyprus
Tel.: +357 24 638 444, +357 24 653 000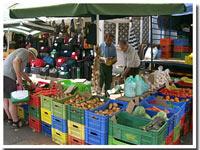 Zenon Kitieos Street
This is the main shopping area of Larnaca. A busy road characterized by small shops lined in a neat manner with an interesting arrangement of vegetable and fruit market stalls at the far end of the street.
34 The Shop ( Visit Site )
The shop provides casual branded clothing for its customers and the company has branches in Nicosia, Limassol, Paphos and Paralimni. It stocks clothing of over 20 important brands such as Nolita, Paul Smith, Pepe, Rare, Paul Frank, Ed Hardy, etc.
Address: 19 Ermou street, 6023 Larnaca, Cyprus
Tel.: +357 24 665 282
Indian Treasures ( Visit Site )
Originally from Saudi Arabia, Indian Treasures is a shop selling Indian clothes, furniture, bedding, jewellery, scarves, cushions, iron work, wall hangings, pillows and bead works.
Address: Mantovani Build, Shop 1+2, Stassinou Str. 6023 Larnaca, Cyprus
Tel.: +357 24 665 307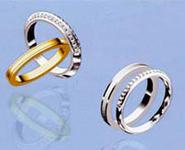 ComputerLand Centre ( Visit Site )
A company that offers full network solutions, complete PC systems with full multimedia, office automation with servers, routers, faxes, peripherals, accessories, notebooks and anything a company or an office would need.
Address: 62, Stratigou Timagia Avenue, Eleneio Megaro, Shop 1-4, 6051, Larnaca, Cyprus
Tel.: +357 24 821 412
Fabulous Jewellers
The shop offers jewellery of exceptional quality, design and beauty. Designs are crafted using pearl, gold and silver.
Address: Fabulous Jewellers G & E Christofides Ltd, 14 Okeanias Street
Larnaca- Dhekelia Road, Cyprus
Tel.: +357 24 644 223
Archontides Sports ( Visit Page )
A 25-year old chain of fitness shops merchandising food supplement products, sports nutrition, fitness accessories, sportswear and latest fitness equipment for home use.
Address: 34 Georgiou Griva Digeni avenue, Larnaca City, 6045, Larnaca, Cyprus
Tel.: +357 22 436 986
Lovebirds Pet Shop ( Visit Page )
Established in 1983, the Lovebirds pet shop is an ideal spot for buying pets and provisions for your current pet. It sells all kinds of dogs and cats, both pedigree and non-pedigree breeds.
Address: Loukas and Sofia Pittakos, Lovebirds Pet Shop, Shantonas Building, Shop 7, Str. Timayia Ave, Larnaca. (nr MacDonalds) , Cyprus
Tel.: +357 99 620 735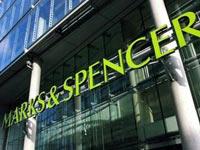 Marks & Spencer ( Visit Site )
An international retailer, Marks & Spencer in Cyprus offers the usual range of clothing, beauty and luxury food products. However, prices can be expensive.
Address 1: Stratigou Timayia Ave. Kyriakou Building, Larnaca, Cyprus
Address 2: 257, Zenonos Kiteios Str.,
Larnaca, Cyprus
Tel.: +357 24 654 795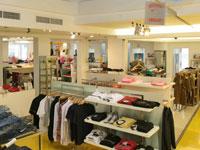 Pissarides ( Visit Site )
A huge range of home and garden products available at a cheap price. Discover garden and home furniture, accessories, gym equipment, pet care products and aids for elderly people at their shop.
Address: 10, Demetri Papanikoli Str. ,
Larnaca, Cyprus
Tel.: +357 24 667 088
Zako ( Visit Site )
Part of the Ermes group, Zako specializes in haberdashery products. It is well known for its range of swimwear, lingerie, hosiery and sleepwear products.
Address: 26-28, Evanthias Pieridou Str., Larnaca, Cyprus
Tel.: +357 24 652 900